Choose SEC Connect to easily manage a variety of form types in one web-based platform location including:
Section 16: Form 3, Form 4 and Form 5
Beneficial ownership filings

Schedule 13G (SC 13G)
Schedule 13D (SC 13D)

Form D
Form 144
Form 13F (13F-HR Holdings Report, 13F-CTR Confidential Treatment Request, 13F-NT Notice Report)
Setup, onboarding and support is simple.
Our team will assist with account configuration, initial registration and setup. We also provide platform onboarding and training, coupled with 24/7 technical support, from our experts who have more than 150 years of combined experience successfully navigating SEC EDGAR filings! Plus, the platform is safe and secure.
Once onboarded, generate a new filing or copy an existing one anytime, anywhere. Create, save and resume work later. View draft filings on demand. And within seconds receive your "accepted" or "suspended" filing confirmation directly from the SEC's EDGAR system.
Need a quick turnaround? Request a demo with our scheduler.
Solutions you can count on.
150 years
Years combined EDGAR and Section 16 experience on our dedicated support team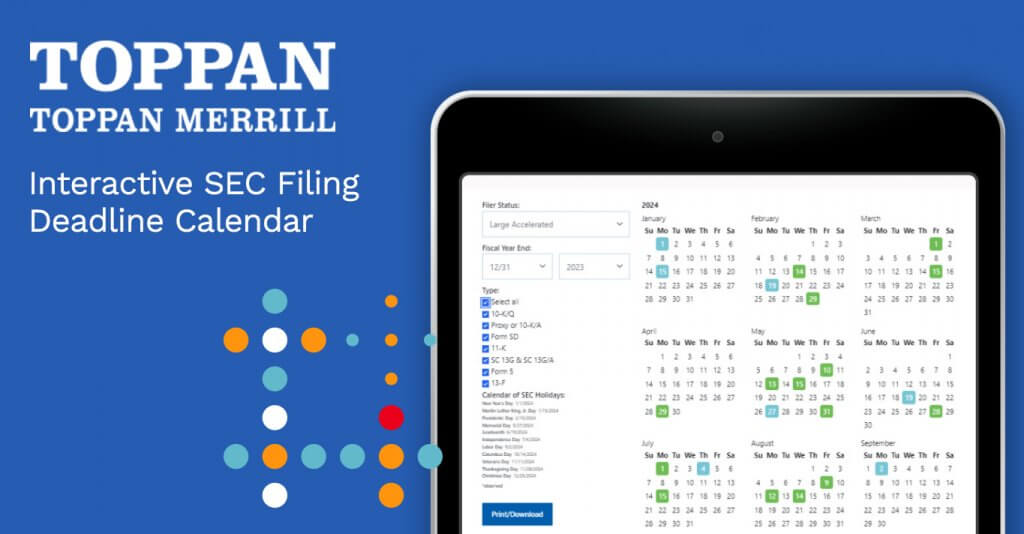 Interactive SEC Filing Deadline Calendar
Designed exclusively for public corporations and investment management companies. Simply enter your filer status, FYE and form types to view key filing dates.

Access the calendar
Updates & Insights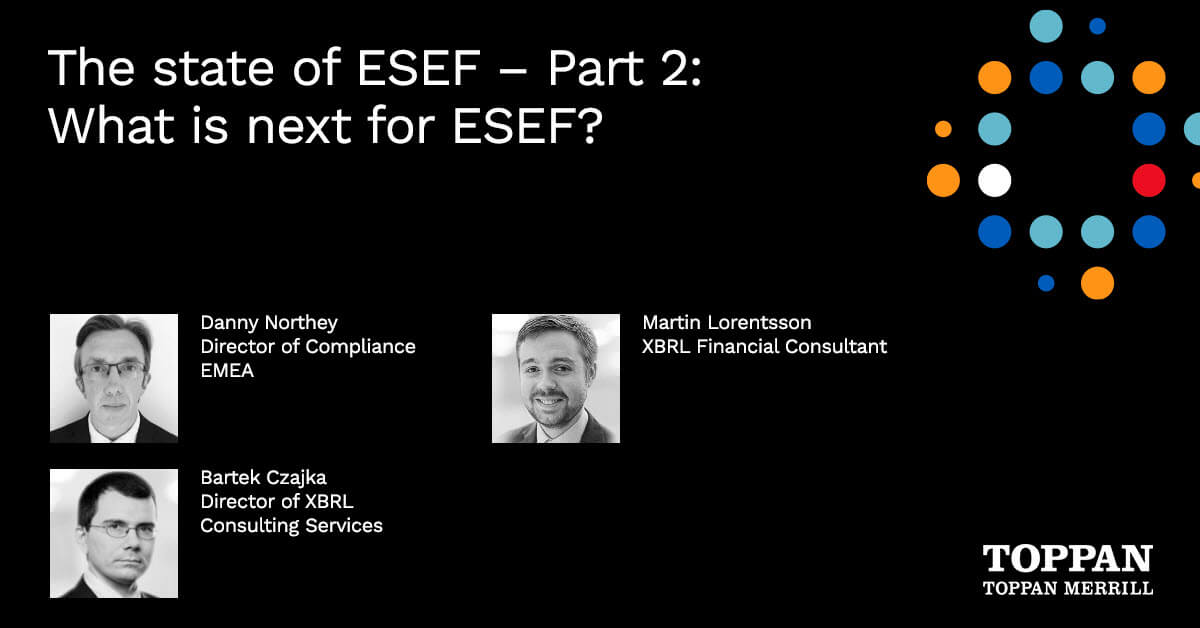 In this second blog of a three-part ESEF series, Danny Northey, Bartek Czajka and Martin Lorentsson share their thoughts on…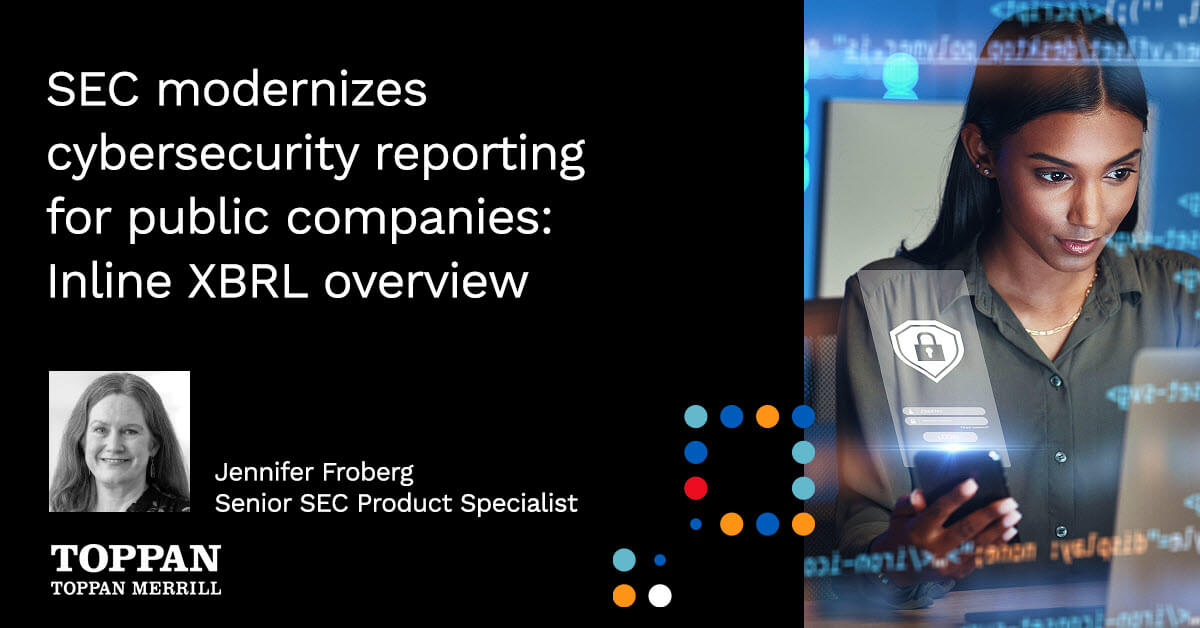 The SEC adopted a new cybersecurity reporting rule affecting domestic and foreign private issuers. Issuers will be required to iXBRL…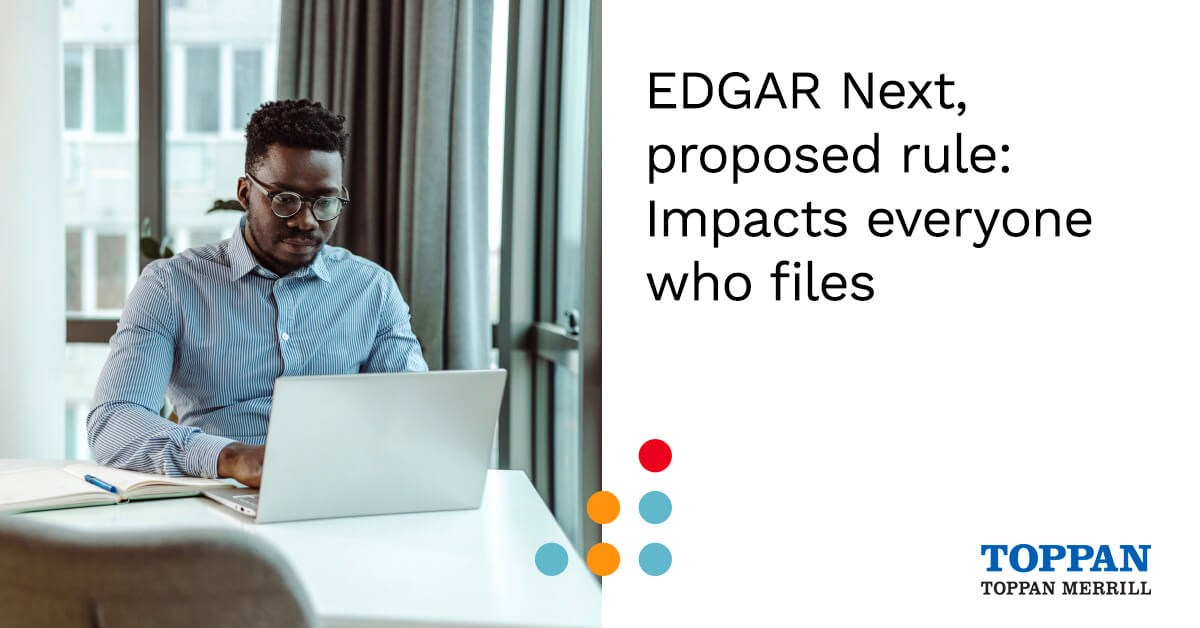 The SEC proposed a rule and form amendments to improve filer access to and management of accounts on the SEC's…
"The SEC Connect platform is really user-friendly and easy to get up to speed with."
Paralegal, U.S. Construction Industry
Related Solutions
SEC Reporting
Count on a partner with expert technology coupled with iXBRL and EDGAR experts who know precisely what it takes in…
Annual Meeting & Proxy Solutions
As experts in regulatory disclosure, we know the annual meeting communications and proxy process can often feel overly complex. We…
SEC Resources
Stay on top of new rules and ongoing investigations at the SEC with our comprehensive list of resources for SEC…
Contact our team to get started.
Whether you are in the exploratory phases or ready to move, we are ready to learn about your needs and find the right solution.
Have more questions?
Reduce complexity and get answers to some of our customers' frequently asked questions.
See the full list of FAQs
What is SEC Section 16 (Forms 3, 4, 5)?
SEC Section 16 of The Securities Exchange Act of 1934 requires corporate insiders to publicly disclose their company affiliations, material changes in their holdings or unreported insider transactions through various regulatory filings with the SEC. Specifically, Section 16 mandates that Forms 3, 4 and 5 be filed by insiders—in other words, company investors who are directly or indirectly beneficial owners of more than 10% of stock in a company or directors and officers of the issuer of the securities. An insider of a first-time securities issuer or a new insider at an already-registered securities issuer must carry out the initial filing, Form 3. Form 4 is used to report material changes in insiders' holdings. Form 5 reports any transactions that should have been included on a previous Form 4 or were eligible for deferred reporting such as gifts of shares or multiple small transactions. Section 16 reporting must be submitted electronically through the EDGAR computer system for the receipt, acceptance, review and dissemination of documents submitted in electronic format to the Commission. The SEC also requires companies to post the forms on their websites by the end of the next business day after filing them. Section 16 reporting deadlines were accelerated due to provisions of the SOX, the Sarbanes-Oxley Act of 2002. For support and additional information, explore our solutions here.
What is a CIK confirmation code (CCC)?
A CIK confirmation code (CCC) is equivalent to a PIN, also known as a personal identification number, and is confidential. The CCC must be eight characters. It is case-sensitive and must contain at least one number and one special character (@, #, $, or *). Sample CCC: ysmajr4$. A CIK confirmation code never expires. The CCC allows a filing to be made on your behalf by a filing agent such as Toppan Merrill.
What is a central index key?
A CIK, central index key, is equivalent to an account number to identify the EDGAR filer. Using the correct CIK is critical for a filing to be associated with the correct EDGAR filer. The CIK is available to the public and cannot be changed. However, when two companies merge, or a company changes their name, the CIK of the surviving/new entity can be associated with the new name by updating the company profile in the EDGAR database, which is a computer system for the receipt, acceptance, review and dissemination of documents submitted in electronic format to the Commission.