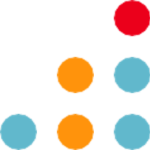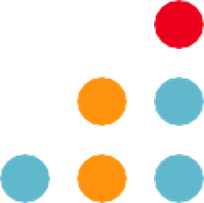 SEC Filings
Whether you are a US filer or Foreign Private Issuer, you feel the ongoing pressures of complex SEC filings and ensuring your company's financial story is told the way you intended. Toppan Merrill is your partner to minimize risk and ease the burden of SEC filings.
US Filers
Form 10-K, Form 10-Q, Form 8-K
Foreign Private Issuers
Form 20-F, Form 40-F, Form 6-K
Lean into Toppan Merrill's suite of SEC reporting tools to streamline the disclosure content management and submission process
Leverage your dedicated iXBRL consultant who is with you at every step of the reporting and filing process to ensure accuracy
Access SEC reporting experts 24/7 to proactively guide your team through the required filings, deadlines and keep you in compliance
Receive continual insights on industry updates and new regulatory requirements through webinars, events, blogs and articles
Take control of your SEC disclosures with Toppan Merrill Bridge™
Toppan Merrill's SEC reporting software, Bridge, is a single, secure, integrated SaaS platform backed by 55+ years of financial and regulatory disclosure service and subject matter expertise.
Know Microsoft® Word, Excel® and PowerPoint®? Then you already know Bridge.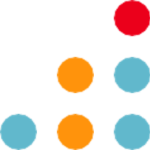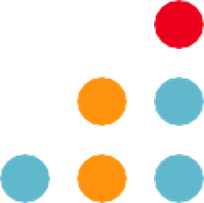 iXBRL
XBRL expertise is essential to properly tag your financial statements to ensure that your EDGAR and iXBRL submissions align and accurately communicate your results. Rely on Toppan Merrill's deep team of XBRL accounting experts to serve as an extension to your reporting team and assist you with your iXBRL filing requirements.
Founding member and current chair of the XBRL US Data Quality Committee
Current vice chairman of XBRL US
Current chair of the XBRL US Communication Steering Committee
In direct communication with the SEC keeping us ahead of regulatory changes and new requirements
Rely on the speed, accuracy and expertise of Toppan Merrill.
5M+
XBRL tags applied annually
1.2M+
Global regulatory filings
1.9M+
XBRL consulting hours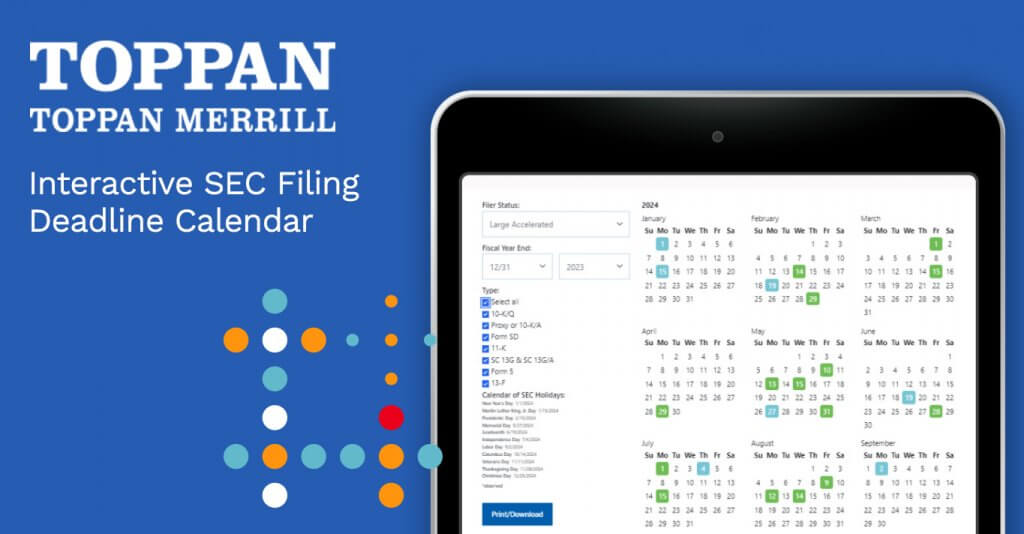 Interactive SEC Filing Deadline Calendar
Designed exclusively for public corporations and investment management companies. Simply enter your filer status, FYE and form types to view key filing dates.

Access the calendar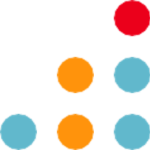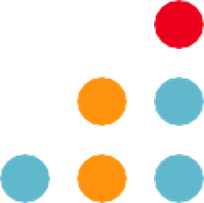 Section 16 Compliance
Easily manage a variety of form types in one web-based platform, including Section 16 (Forms 3, 4, and 5), Schedule 13D and 13G, Form 13F, Form D, Form 144 and more.
Keep track and in control of the information and easily manage Section 16 filer information
Full setup, onboarding and support
Service supported with over 50 years of industry expertise.
On The Dot
Regulatory disclosure and compliant communications – direct from the experts.
Episode 2 – A conversation with Jennifer Froberg outlining the SEC proposed EDGAR Next rule and requirements
Updated: December 8, 2023
Updates and Insights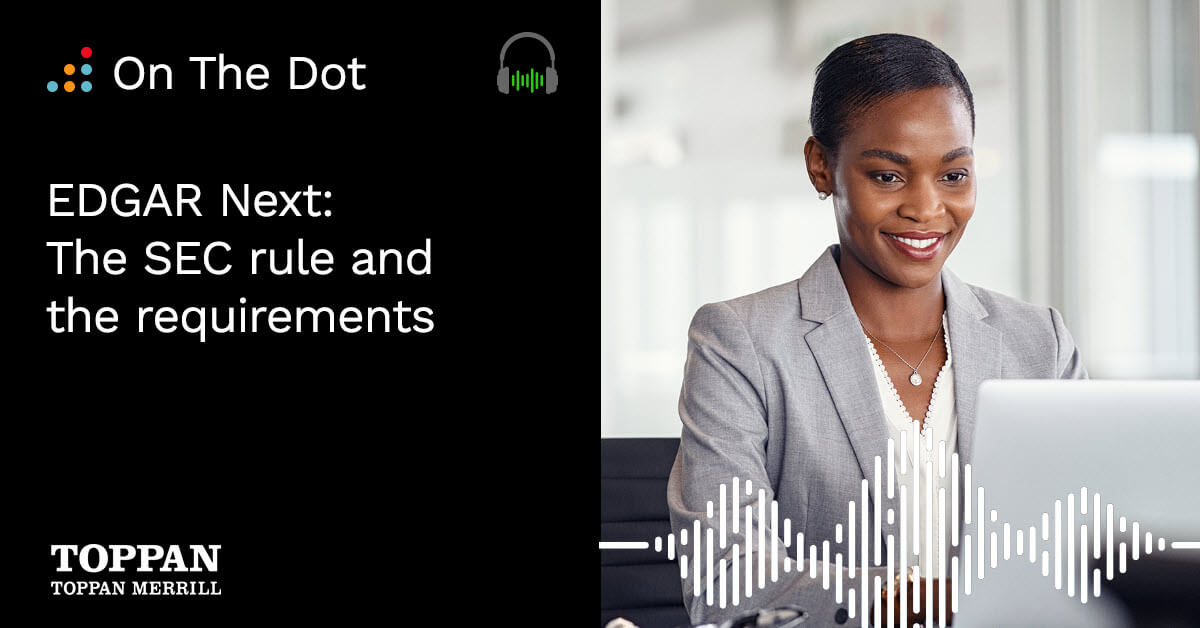 Episode 2 – A conversation with Jennifer Froberg outlining the SEC proposed EDGAR Next rule and requirements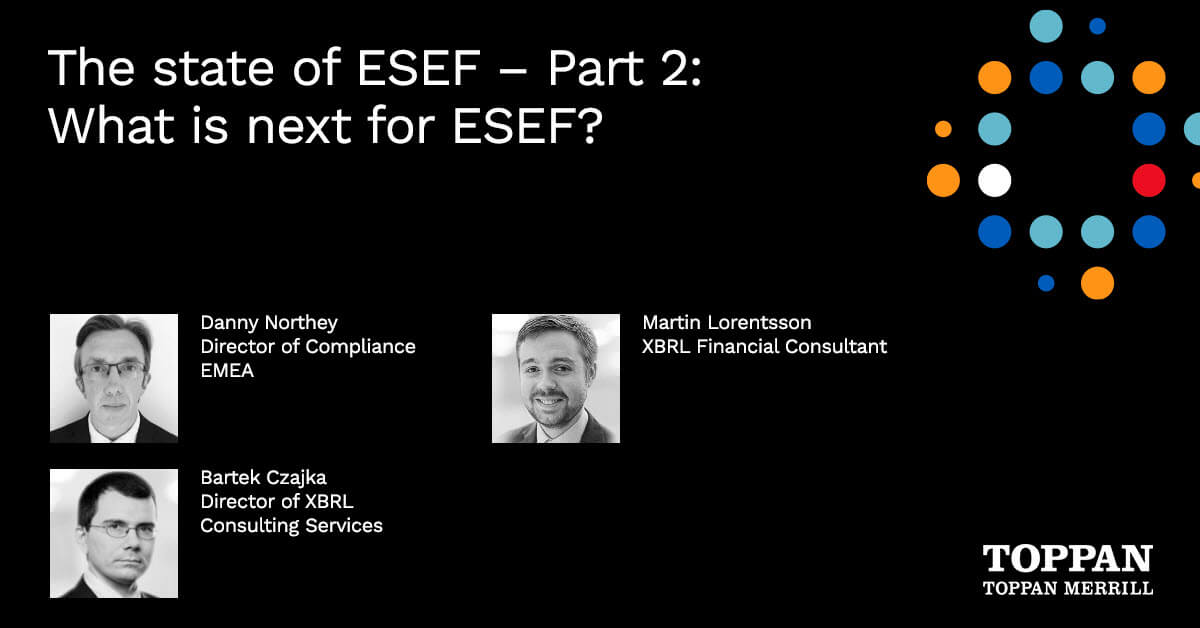 In this second blog of a three-part ESEF series, Danny Northey, Bartek Czajka and Martin Lorentsson share their thoughts on…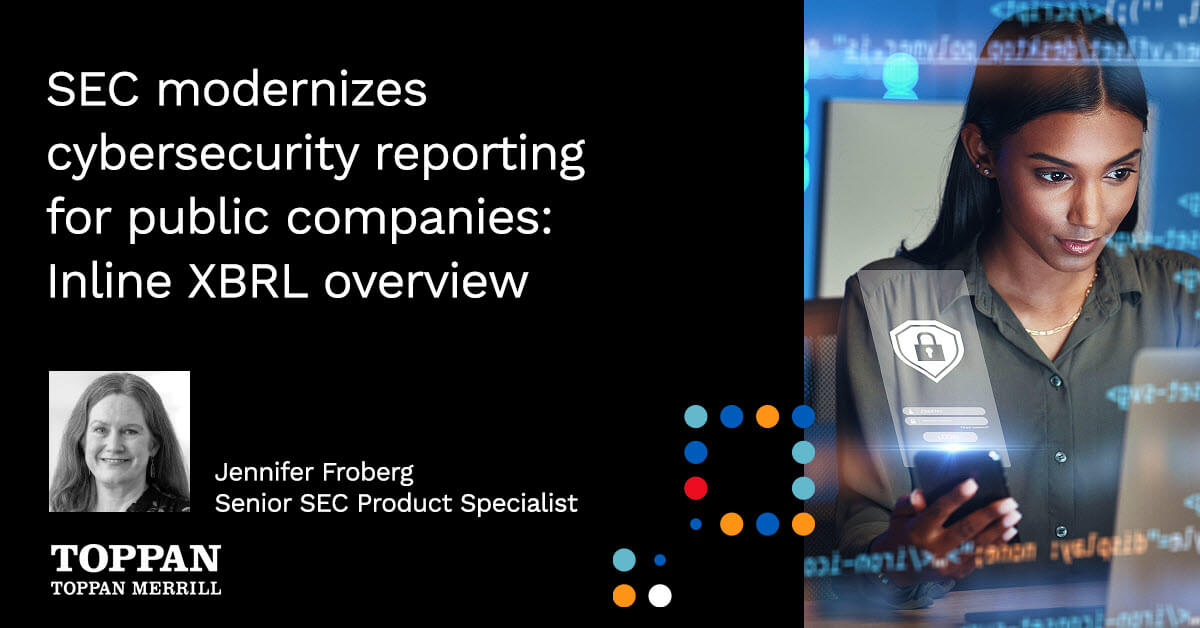 The SEC adopted a new cybersecurity reporting rule affecting domestic and foreign private issuers. Issuers will be required to iXBRL…
"Professional, timely, accurate service in getting our project done expeditiously. I couldn't ask for a better, more responsive team!"
Chief Financial Officer, Pharmaceutical Manufacturing Industry
Related Solutions
Annual Meeting & Proxy Solutions
As experts in regulatory disclosure, we know the annual meeting communications and proxy process can often feel overly complex. We…
SOX Compliance
As SOX compliance requirements continue to become more and more complex, leverage Toppan Merrill solutions and deep expertise to create…
SEC Connect
Managing EDGAR Filings has never been simpler. SEC Connect, our end-to-end web-based platform, places the control in your hands to…
Contact our team to get started.
Whether you are in the exploratory phases or ready to move, we are ready to learn about your needs and find the right solution.
Have more questions?
Reduce complexity and get answers to some of our customers' frequently asked questions.
See the full list of FAQs