Verify that the EDGAR Company Profile contains a valid email address.
Your Toppan Merrill Service Team can assist in pulling the current EDGAR Company Profile
Follow the instructions provide here to login and verify the information
Note: If you do not have a valid email address and are unable to update it, go to the Manual Passphrase Update Process
Access the EDGAR Filer Management Website (https://www.filermanagement.edgarfiling.sec.gov/)
Click "Press Here to Begin"
Click Update Passphrase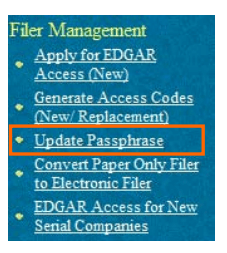 Click "Request security token to update passphrase"
Enter the CIK
Enter a reason for Update. This can be up to 255 characters
EDGAR generates a security token and sends an email to the EDGAR Contact. This security token will become invalid after 60 minutes, if another security token has been issued for the same CIK or if it has already been used.
Enter the security token by either:

Proceeding to the next page "Update Passphrase Continuation Page"
Clicking the link in the email received from EDGAR then click "Received a security token via email"

Enter the CIK
Check the box "I have received the security token within the last 60 minutes"
Enter the Security Token
Enter the new Passphrase, then re-enter for confirmation
Remember this Passphrase! It will be needed to generate new codes in the future.
Click "Submit"
Click OK to continue: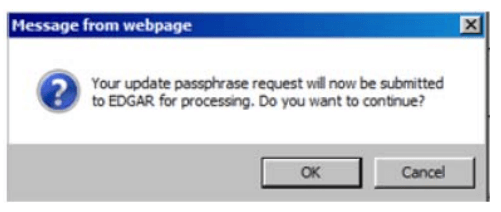 An email will be sent to the EDGAR Contact on file with the SEC in the EDGAR Profile. Continue to Generating EDGAR Access Codes.
If you have any questions regarding this process, contact Filer Support at (202) 551-8900 Option 4.