Verify that the EDGAR Company Profile contains a valid email address.
Your Toppan Merrill Service Team can assist in pulling the current EDGAR Company Profile
Follow the instructions provided here to login and verify the information
Note: If you have a valid email address go to the Electronic Passphrase Update Process
Access the EDGAR Filer Management Website (https://www.filermanagement.edgarfiling.sec.gov/)
Click "Press Here to Begin"
Click "Update Passphrase"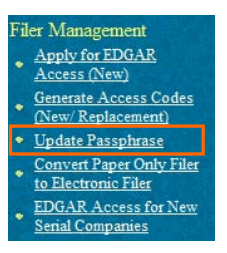 Click "Update Passphrase (Manual)"
Enter the CIK
Click Yes if you have authority to update the passphrase
Enter the new passphrase, then re-enter for confirmation
Remember this passphrase! It will be needed to generate new codes in the future.
Enter a reason for Update. This can be up to 255 characters
Note: The reason will appear on the authentication document.
Click Continue
Click Print Window – this becomes the authentication document
If the contact information is outdated, cross out outdated information and add replacement information
Write in the email address on the authentication document for the contact regarding the passphrase update.
Note: The SEC will use the contact name, email and phone number to contact the individual and confirm the passphrase update. Please ensure you are listing the relevant individual in clear handwriting. Once access codes are generated, this information can be changed by updating your company information.
Sign and Notarize the printed authentication document
Scan the signed and notarized authentication, POA (if applicable), and any supporting document(s) as a single PDF file and save to your computer
Note: Additional supporting documents may be necessary. See page 9 of the SEC's EDGAR Filer Manual, Volume I.
Upload the PDF using the following steps:

Click Upload/Delete Attachment to upload the PDF document
Click Upload Attachment, browse for the scanned PDF file. Enter the description of the attachment and Click Upload
Click OK to confirm upload
Click OK to complete file upload process. This will return you to the Update Passphrase Confirmation screen. The uploaded files will not be listed on this screen. Click Upload/Delete Attachments to review or make changes.

Click Submit to transmit the Update Passphrase request
Click OK to continue
An email will be sent to the contact email provided in the authentication document – Continue to Generating EDGAR Access Codes
If you have any questions regarding this process, contact Filer Support at (202) 551-8900 Option 4