Switching plans between the options overseen by the Centers for Medicare & Medicaid Services (CMS) usually receives the most press during each fall's Annual Enrollment Period (AEP). But there's far more to the story, when life's curveballs (and even the forces of mother nature) give way to special enrollment circumstances. This is where CMS' Special Enrollment Periods (SEPs) come into play, which can be very confusing, but can only be granted by CMS.
Health plans inevitably experience snafus due to misunderstandings, whether on the part of the plan or its members. Traditionally, the health plan or the selling agent is usually the first call placed by a customer in the hopes of a quick enrollment fix. Are your member services teams and agents prepared to answer enrollment questions following AEP bumps and bobbles? Do they understand basic details about SEPs? What about providing support during other types of extenuating enrollment circumstances, to help ease your membership's worries?
While only CMS can approve SEP requests, your organization will need to understand SEP basics and have proper tools ready for enrollee discussions. Sales agents and member service representatives will need to be armed with plan option details, approved talking points or scripts, and know how to quickly access plan benefit documents and comparisons.
Here are some enrollment basics to help you understand some of the more common enrollment periods, and some less-common circumstances triggering a need for SEPs.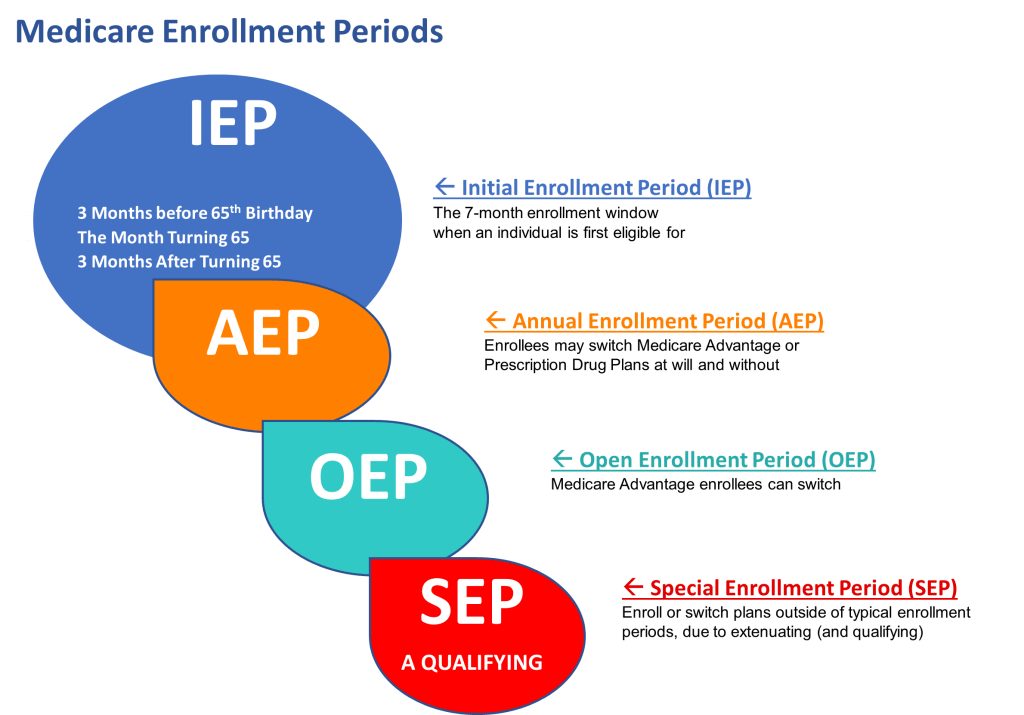 Typical Enrollment Periods
Initial Enrollment Period (IEP)
The Initial Enrollment Period is the first opportunity for individuals to enroll in Original Medicare. It occurs around an individual's 65th birthday and lasts for a total of seven months: Three months before the birth month, the birth month itself, and three months after the birth month.
Annual Enrollment Period (AEP)
The Annual Enrollment Period is a set time each year for changing Medicare coverage selections. This "change" opportunity runs from October 15 to December 7. Beneficiaries can continue to change their minds on plan selections through December 7. The most recently submitted plan application, is the plan choice that will go into effect for the enrollee beginning January 1 of the following year.
Open Enrollment Period (MA OEP)
The Open Enrollment Period runs from January 1st to March 31st, and allows individuals who are already enrolled in a Medicare Advantage plan to switch to a different Medicare Advantage option – or, return to Original Medicare. They can also enroll in a standalone Medicare Part D prescription drug plan.
General Enrollment Period (GEP)
The General Enrollment Period is for individuals who missed their Initial Enrollment Period (the first 7-month enrollment opportunity). It runs from January 1st to March 31st. Coverage approved during the GEP does not begin until July 1 of the same year. However, participants enrolled during the GEP may face late enrollment penalties (LEP) for not enrolling during their initial 7 months of eligibility. The penalties are added onto their monthly premium, and multiply the longer an individual waits to enroll. LEPs will apply for the duration of coverage.
Examples of "Special Enrollment Periods" (SEP)
One of the many misunderstandings about SEPs, is that they are sometimes presumed as an available option, or automatically issued as a solution to a beneficiary's poor enrollment timing. That's simply not so. SEPs must be applied for, and can only be approved by CMS directly. Making a change through an SEP isn't an entitlement. The reason for having missed an enrollment period window needs to be verified by CMS before the SEP exception is granted.
Life's unexpected events don't follow a calendar, and circumstances can erupt creating a barrier to enrollment timeframes. CMS assists beneficiaries through these circumstances by providing limited Special Enrollment Periods (SEP). From the numerous types SEPs, let's review some of the more common, and those that are (thankfully) far less common, which are sometimes prompted by newsworthy events.
Medicare Advantage (MA) Plan Disenrollment
Individuals who are enrolled in a Medicare Advantage plan have the opportunity to switch to Original Medicare during this SEP. It occurs from January 1st to March 31st each year. Additionally, participants can enroll in a standalone Medicare Part D prescription drug plan. Once beneficiaries have time to decompress after the AEP flurry and truly digest their new choice of plan benefits, they may decide to revert back to Original Medicare.
Relocation
Individuals moving away from their health plan's service area may be eligible to enroll under an SEP. Service areas are determined by county and zip code within a state, which may be determined by other factors such as provider networks and accessibility. SEPs may be granted to ensure relocated individuals have plan coverage in their new area. From the opposite perspective, if an individual relocates where additional plan options are available, they may also be granted an SEP to switch to a more suitable plan.
Loss of Medicaid Eligibility
When circumstances change to the degree an individual no longer qualifies for Medicaid, CMS may grant an SEP to join a Medicare Advantage or Part D plan, return to Original Medicare or other options. Persons who may be subject to late enrollment penalties due to the lag in enrollment crossover, can contact the social security office to have the penalty removed.
Plan Choice was Based on Incorrect or Misleading Information
The Medicare space is intricate and can be confusing, causing misinformation to be handed out. Whether unintentional or deliberate, mistakes happen, and enrollees need access to plan benefits that suit their level of care. For example: if an employer issues incorrect plan information to its retirees who are covered under the employer's group retiree plan, those retirees will likely be approved to change plans if they so choose. Or, if a health plan's sales agent inaccurately provided cost-sharing amounts or misrepresented the types of benefits available under a plan, CMS would likely initiate an SEP for the enrollee.
Released from Incarceration
Individuals who have been incarcerated may exercise an enrollment period designed for their situation. When the SEP is approved by CMS, the individual is granted a 12-month enrollment period to choose a plan and can decide their effective date between two options. Their coverage can become effective either beginning the first of the following month, or, an effective date up to 6 months retroactively with other limited criteria.
National Emergency or Disaster
Unfortunately, in recent years there have been significant hardships due to the Covid-19 national emergency, and a combination of natural disasters. The hurricane season of 2022 wrought significant impact to residents of coastal and nearby areas who certainly shouldn't be paying late enrollment penalties when there is no communication available to enroll. Persons living outside the areas, whose authorized representative may have been impacted, can also be disadvantaged. In circumstances whereby communication to/from enrollees is almost impossible, CMS validates the individual's residence in afflicted areas via federally confirmed disaster zones and zip codes, granting SEPs allowing time for enrollment or switching plans. At times CMS has issued incident-specific model letters, model scripts and talking points offering guidance to a health plan's member services teams to provide consistent information to afflicted enrollees.
CMS has many categories of SEPs to assist beneficiaries when the unexpected unleashes enrollment havoc. As a health plan, are you prepared with the proper documents and tools to support SEP candidates with their plan decisions?
How Toppan Merrill can help?
Toppan Merrill provides member communications services to ensure your plan is armed with the required documents at the right time Using our expertise and insight, we want to partner with you on your marketing and communications materials. From document creation and management, sales enablement, omnichannel communications, printing services, and more, we deliver best-in-class solutions that help you respond quickly to changes in regulations, member needs, and markets. 
Learn more about how we can help with your health plans member communications.